Motors, Pumps, Gearboxes & Fans | Repair | Refurbishment | Maintenance
Motors, Pumps, Gearboxes & Fan Repair Services
Rotamec have facilities to repair & rebuild motors, gearboxes, pumps and fans of all sizes and provide an unrivalled service to a large range of industries across the South West, and often at very short notice.
Every job follows a strict quality system and is handled by a skilled, qualified and experienced workforce providing a full service including: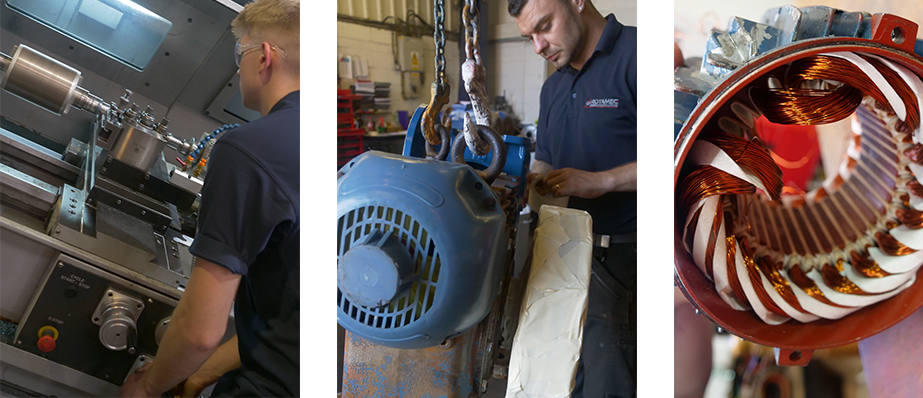 Rotamec have a constant stream of motors, pumps and fans being repaired and overhauled. Nothing is too small or too big, from an 0.2Kw pump and smaller to a 670Kw ABB motor and bigger.
Fully equipped workshops and machine shop:
Repairing an electric motor is often the only solution where replacement motors are not available or where the faulty motor is of a specialist design or type.
Rotamec offer a full rewind service for all AC and DC motors, new bearings are fitted, armatures can be skimmed and undercut, field coils and interpoles can be re-leaded and brush gear renewed, therefore ensuring many more years of reliable service.
Additionally Rotamec's specialist engineers are able to test electronic control systems, diagnose faults and effect repairs as required.
Electrical Service Includes:
Fully certified engineers
Load testing
Core testing
Armature testing
Field testing
Varnishing stators & rotors
Shimming & undercutting commutators
Wash & stove windings
Rotamec offer a comprehensive repair and refurbishment service for all gearboxes, pumps, fans and other electro-mechanical equipment.
Following a diagnosis new bearings, gears, shafts and seals are fitted as required and the units are comprehensively tested before being re commissioned.
Vibrations can be analysed and fans can be balanced to ensure efficiency and quietness in operation together with longevity in service.
Electrical Service Includes:
Shaft repair
Shaft manufacture
Seal journal repair
Housing repair
Metal spraying
Fusion Welding
Keyway cutting
Screw cutting