Motor Inverters & Variable Frequency Drive
Variable Frequency Drives
An inverter drive is a type of electrical control system used in electro-mechanical motive power systems to control AC motor speed and torque by varying motor input frequency and voltage.
Available as wall or control box installations or as motor mounted units, inverters and drives can offer substantial savings in power consumption by optimising a motor's torque and power to the demand. Additionally inverters and drives provide soft start functionality to protect transmissions systems from sharp torque spikes upon start up.
Rotamec stock an extensive range of inverters and drives including Lenze SMD and SMV inverter drives and Motovario motor mounted inverters.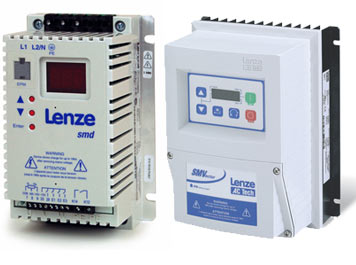 Rotamec and Lenze, industrial control and responsive support
As a global specialist in industrial automation, Lenze offer drive solutions and complete systems from a single source. And as the Lenze distribution and support partner for the South and South West of England, Rotamec have same day access to Lenze's extensive range including motor gearboxes, G-Series gearboxes and inverters, and therefore can usually deliver any Lenze product the same day.
With a motivated and committed approach, Lenze and Rotamec work together with you to create the best possible solution regardless of whether you are looking to optimise an existing machine or develop a new one.
Lenze inverters – control cabinet or decentralised
SMD for control cabinet installation | SMV for motor-proximity installation
Lenze SMD inverters for control cabinet installation are designed for IP20 and IP31 degrees of protection. The devices can be installed one after the other to save space, and they can be used in a DC bus operation, keeping the wiring to a minimum.
Lenze SMV inverters offer IP65 protection in decentralised applications, available in either motor-mounting or wall-mounting versions. Decentralised inverters are particularly beneficial in the automotive, intralogistics and printing industries.